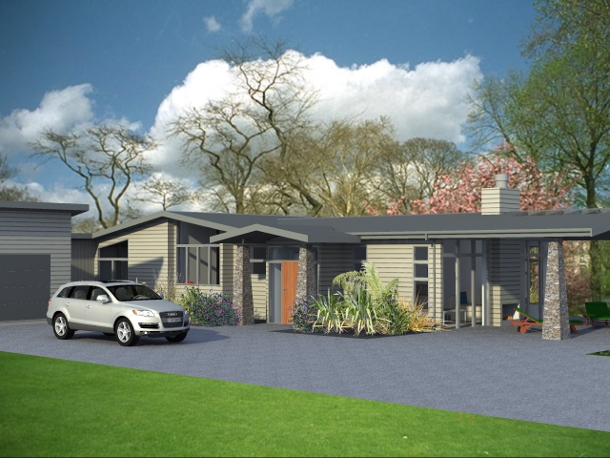 Even renovating an existing home can benefit by 3D modelling.  You can try out a new configuration of rooms, add an extension, change doors and windows and do it all before a hammer hits a nail.   Once you see a 3D model of a house you will be surprised by how many variations and changes you can come up with – seeing all the rooms 'helicopter' style makes all the difference.
One recent example of how a renovation can really benefit was a family who wanted to make a major extension to an existing older home.  A new lounge area was added to the north, a new porch and entranceway, a new garage and extensive reconfiguration of the internal rooms.  There was additional complexity in this house due to differing floor levels. It was very hard for the family to visualise the new rooms and how they would work so the 3D model helped the whole family 'buy in' to the project.
An added bonus was that the 3D modelling process uncovered a mistake in the architects plans which meant the new roof trusses would have been constructed to an incorrect angle.
3D models are built in a similar logical fashion as a real building thus uncovering any significant mistakes in the plans prior to any construction work.