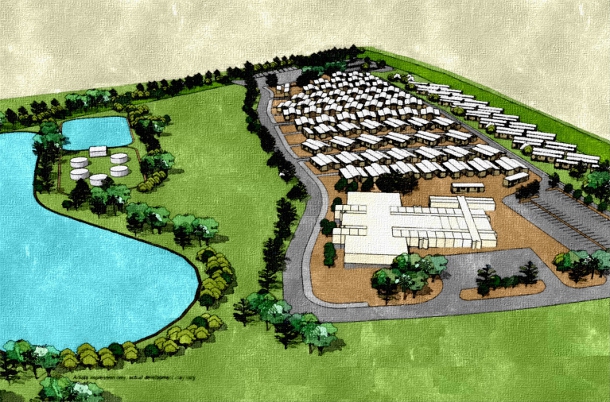 This development is the creation of a workers camp, temporary accommodation for workers involved in large, local infrastructure projects in Queensland, Australia.
The project required the creation of a conceptual 3D model early on in the project as part of the submission to council for development approval for material change of use.  At this stage the details of the buildings have not been defined although the key elements such as accommodation for 500 workers,  kitchen and dining facilities, ablution block, storage areas etc are known.   Simple 3D blocks were created and placed on the land in line with the proposed engineering earthworks.  The village is to be built using sustainable design concepts and has some innovative features, such as solar powered air conditioning, waste gas re-used and own electricity generation.  Workers will be tranported in electric powered buses to their work sites.  There will be on-site water storage and class one waste water treatment system and re-use together with rainwater harvesting.  The site will be extensively planted with native trees and will also feature large stormwater ponds.  Simple 3D images were created to add clarity to the proposal documents submitted to council.
3D images are becoming more and more of a standard requirement for council submissions.